Grand Parade
The 49th Annual Springtime Tallahassee Grand Parade is going to be "Living it Up in the City" in The City Where Spring Begins. Make plans to join us on April 1st, 2017 at 10:30 a.m.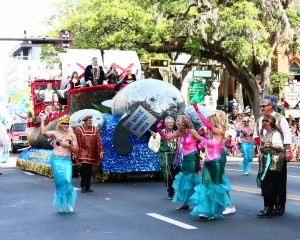 The parade begins at the intersection of Monroe Street and Thomasville Road and travels south on Monroe Street past the Florida Capitol ending at Gaines Street. The first Springtime parade featured many costumes and only horse drawn units. Today, the parade still includes horse-drawn carriages to provide a bit of nostalgia; however, it also boosts elaborately clad characters and spectacular mechanical floats from all over the southeastern United States. Springtime Tallahassee is considered one of the biggest southeastern parades and craft shows, attracting over 70,000 spectators.
---
Parade Application:
We are no longer accepting application for the 2017 Springtime Tallahassee Festival. Please check back in the fall for 2018 parade applications.