Dedicated To Keeping Tallahassee As The State's Capital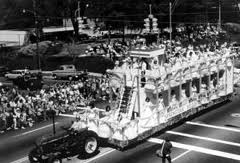 Springtime Tallahassee, Inc. was chartered as an organization dedicated to keeping Tallahassee as the state's capital. In 1967, Florida had its first Legislature based on reapportionment when Southern and Central Florida Legislators suggested moving the capitol to Orlando. Local business and civic leaders met behind closed doors to map their strategy to keep the state's capital in Tallahassee.
The legislative delegation asked for help. At a luncheon of the Tallahassee Real Estate Association in May, the speaker suggested: "We should have a festival in the spring when Tallahassee is so beautiful!" By the fall, more than 20 groups were planning the First Annual Spring Festival March-April 1968. As a result, the Legislature historically chose to keep our state's capital in Tallahassee.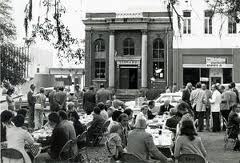 With the passing of each festival, Springtime Tallahassee has grown a little bigger and better through the dedication of its community-minded members. Since 1968, Springtime Tallahassee continues to showcase and celebrate our Capital city!
Springtime Tallahassee is a civic organization dedicated to the promotion and preservation of Tallahassee's history. The home and meeting place of the organization is the David S. Walker Library located in downtown Tallahassee. The building was built in 1903 and was named after David S. Walker, Governor of Florida from 1865-1868 and the founder of Tallahassee's first library. The Walker library was a functioning library until 1976 and then was placed on the National Register of Historic Places. Springtime Tallahassee members have since raised the funds necessary to restore the building and it remains open to the public for viewing Monday through Friday.
1967 Charter Members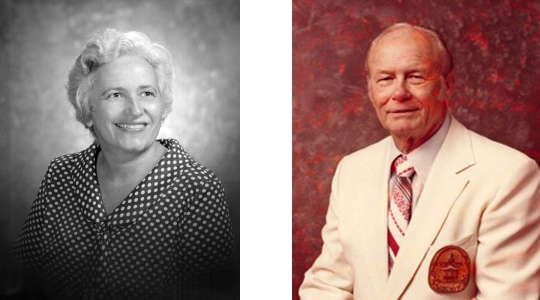 Betty McCord, Founder & General Chairman
George Yost, Director
C. DuBose Ausley, Member
Charles H. Deeb, Member
B.C. Harrison, Member
J. Edwin White, Member

A.F. (Pete) Rich, President
Donald C. Price, First Vice President
William C. Smith, Second Vice President
George R. Langford, Secretary-Treasurer
George H. Harrison, Jr., Director
Louis Hill, Director
Past Presidents and General Chairmen
| | | |
| --- | --- | --- |
| PAST PRESIDENTS | YEAR | PAST GENERAL CHAIRMEN |
| A.F. (Pete) Rich | 1968-1969 | Jean Rich |
| Donald C. Price | 1969-1970 | Jean Rich |
| William C. Smith | 1970-1971 | Eleanor McMullen |
| George R. Langford | 1971-1972 | Jean McCully |
| Leonard R. Cowles | 1972-1973 | Jane Bacon |
| Earl Bacon | 1973-1974 | Anna Riedel |
| Jesse F. Warren, Jr. | 1974-1975 | Beth Christensen |
| O. Earle Frye | 1975-1976 | Bobbie Frye |
| W. Theo Proctor, Jr. | 1976-1977 | Kathy Cowles |
| Al C. McCully | 1977-1978 | Nancy Ervin |
| Marvin J. Becker | 1978-1979 | Belle Warren |
| E. Harper Field | 1979-1980 | Jane Price |
| Emory T. Cain | 1980-1981 | Brenda Dyer |
| Wayne H. Coloney | 1981-1982 | Monna Bryant |
| William C. Manley | 1982-1983 | Dottie Green |
| William H. Reed | 1983-1984 | Kathy Anderson |
| Ronald K. Sauls | 1984-1985 | Waneta Stone |
| O. Earl Black, Jr. | 1985-1986 | Marcia Taliaferro |
| David Lang, Jr. | 1986-1987 | Sandie Goree |
| Frank A. Graham, Jr. | 1987-1988 | Jewel Scearce |
| Robert T. Gravely | 1988-1989 | Marcia Thornberry |
| Harold Odom | 1989-1990 | Patricia Giglio |
| William Stancill | 1990-1991 | Karen Smith |
| Christine Speer | 1991-1992 | Clydie Lu Conway |
| Neil C. Chamelin | 1992-1993 | Marge Stancill |
| William L. Ervin | 1993-1994 | Betty B. Phillips |
| Dale H. Heideman | 1994-1995 | Barbara "Babs" Taff |
| John D. Williams | 1995-1996 | Pamela G. Shields |
| Bob Glover | 1996-1997 | Melanie Boone |
| John Sullivan | 1997-1998 | Sue Griner |
| W. L. "Mac" McLendon | 1998-1999 | Diane Bell |
| Barry Hoffman | 1999-2000 | Terrie Brooks |
| Jim Searce | 2000-2001 | Pat Carritt |
| Broward Taff | 2001-2002 | Bev Swanson |
| John Bell | 2002-2003 | Pam Carpenter |
| Joe Parramore | 2003-2004 | Anita Durham |
| Wayne Clotfelter | 2004-2005 | Jane Parsons |
| Bill Parsons | 2005-2006 | Brenda Clotfelter |
| Johnny Jordan | 2006-2007 | Susan Thurmond |
| Scott Jay | 2007-2008 | Alice Diestelhorst |
| Dave Wengert | 2008-2009 | Susie Mozolic |
| Polo Lacayo | 2009-2010 | Bonnie Fisher |
| Richard Musgrove | 2010-2011 | Elle Mick |
| Park Adams | 2011-2012 | Pam Fendrick |
| Raoul Clarke | 2012-2013 | Pat Greene |
| Ron Mowrey | 2013-2014 | Ginger Hoffman |
| Tim Jansen | 2014-2015 | Rosemary Wampler |
| Jack Diestelhorst | 2015-2016 | Carol Leon |
| Steve Lastowski | 2016-2017 | Karen Jay |
Past Andrew Jackson and Rachels
PAST ANDREW JACKSON

YEAR

PAST RACHEL JACKSON

A.F. (Pete) Rich
George R. Langford
William C. Smith
Leonard Cowles
Jesse Warren Jr.
Marvin Becker
O. Earle Frye
Donald Price
Karl Roesch
E. Grover Rivers, Jr.
David Avant, Jr.
Vernon Sanders
Douglas Smith
William Manley
L. Lamar Gay
Guyte McCord
Charles Hill
Jerry Albritton
William Baldwin
Leon Friedman
John Madden
Charles Shields
E. Lenwood Taliaferro
W.L. "Mac" McLendon
Broward Taff, Jr.
Broward Taff, Jr.
Larry D. Wood
M. James Griner
John L. Bell
George Reed
John Sullivan
Terrell Folsom
Richard Musgrove
Jack Chapman
Polo Lacayo
Boots Mueller
Johnny Jordan
Barry Hoffman
Norm Gravelle
Scott Jay
Charley Fowinkle
Dave Wengert
K.W. Smith
Manny Gonzalez
Dale Heideman
Tim Jansen

1972
1973
1974
1975
1976
1977
1978
1979
1980
1981
1982
1983
1984
1985
1986
1987
1988
1989
1990
1991
1992
1993
1994
1995
1996
1997
1998
1999
2000
2001
2002
2003
2004
2005
2006
2007
2008
2009
2010
2011
2012
2013
2014
2015
2016
2017

Jean Rich
Marian Langford
Clara Jane Smith
Kathy Cowles
Belle Warren
Lenora Becker
Bobbie Frye
Jane Price
Frances Roesch
Jean Rivers
Eugenia Avant
Sandy Sanders
Karen Smith
Gayle Manley
Mary Gay
Betty McCord
Betty Hill
Grace Albritton
Beverly Baldwin
Lois Friedman
Patricia Madden
Pamela Shields
Marcia Taliaferro
Sue McLendon
Barbara "Babs" Taff
Barbara "Babs" Taff
Betsy M. Wood
Sue Griner
Diane Bell
Margaret Reed
Anita Sullivan
Tricia Folsom
Sally Musgrove
Cora Ann Chapman
Penny Lacayo
Joanna Mueller
Barbie Jordan
Ginger Hoffman
Maryann Gravelle
Karen Jay
Joan Fowinkle
Jeany Wengert
Michell Smith
Pat Greene
Barbara Jean "BJ"
Stephanie Jansen
Past Krewe Chiefs
Spanish
American
Territorial
Antebellum
Statehood
War &
Reconstruction
Twentieth
Century
1972
Jesse Warren
Edward Haskell
Frank Graham
Wayne Coloney
Earl Bacon
1973
Robert Foster
Palmer Proctor
Marvin Becker
James Conn
Walt Funderburk
1974
Harper Field
David Avant
Roy McGahagin
John McClellan
James Joanos
1975
Block Smith
James Woods
W.D. Albert
Donald Pumphrey
Donald Alford
1976
William Byerts
Charles Hill
Robert Eaton
Max Robinson
Jerry Dye
1977
Bob Wilson
Jim Ervin
Grover Rivers
Karl Roesch
Bill Reed
1978
Doug Smith
Vernon Sanders
Lee Ferrell
Bill Manley
Jim Pope
1979
Sandy Dickson
Ken Fuqua
Bruce Miller
Bobby Beggerstaff
Herb Reinhard
1980
Burke Young
Bill Dyer
Joe Cahill
Lee Sims
Kinney Harley
1981
Bob Smith
Bob Taylor
Doug Cooksey
Ron Sauls
Carlos Stone
1982
David Lang
Robert Fewox
Don Albritton
Paul Nichols
Thomas Taylor
1983
Bill Baldwin
Douglas Maddox
John Sample
Robert Foss
Paul Stevenson
1984
Earl Black
Tom Woods
Jack Eberly
Charles Benedict
Barrett Johnson
1985
Robert Jones
Jerry Albritton
Edward Walker
Lamar Gay
Patrick McCaffrey
1986
Douglass Frick
Wyatt Taylor
Howard Carraway
William Stancill
William Odom
1987
Charles Shields
Leon Friedman
Vincent Giglio
H.D. Long
Jack Madden
1988
John Williams
Cecil Cannon
William Ervin
Rodney Nichols
Neil Chamelin
1989
Dick Speer
Carroll Webb
John Christensen
Len Taliaferro
Alan Walker
1990
Mike Griffin
Joe Sanders
Bill Fletcher
Larry Wood
Betty Harley
1991
Dale Heideman
"Mac" McLendon
Rush Ulmer
Robert Glover
Fred Kinch
1992
Rob Carter
Dan Holloway
Harry Beasley
Broward Taff
Bill Joyce
1993
Bill Kalfas
Gary Strobel
Joe Parramore
Tom Barnawell
Lou Morelli
1994
Chris Doolin
Newton Babcock
Roger Inman
John Sullivan
Eddie Boone
1995
Bart Wells
T.K. Hannah
Erwin Jackson
Bill Swanson
Mac Stokes
1996
Ernie Ellison
Jim Griner
John Bell
John Carpenter
Bob Guest
1997
John Joiner
Judson Chapman
Jim Moret
Olin Granthum
Steve McArthur
1998
Bobby Brooks
Tom Collins
Barry Hoffman
Bill Durham
Jim Scearce
1999
Manny Gonzalez
Paul Cureto
n Michael Gilley
Steve Lastowski
Sparky Huddleston
2000
Bill Parsons
Donna Tate
Bill Burns
John Moloney
Reuben Plachy
2001
Wayne Clotfelter
Scott Hunt
Ginger Hoffman
Boots Mueller
Bill Bigler
2002
Kenny Bell
Dave Wengert
Jack Chapman
Terrell Folsom
Phil Bacon
2003
Scott Smiley
John Chason
Warren Benson
Gary Gooc
Mark Lillie
2004
Scott Jay
Charley Fowinkle
John Menge
Johnny Jordan
Pat Carritt
2005
David Maus
Jason Garcia
Carol Cross
Fred Thurmond
John Wampler
2006
Tim Jansen
Sam Rhody
Teresa Coates
Tony Fendrick
Bill Woolley
2007
Jack Diestelhorst
Raoul Clarke
Gary Fitzpatrick
Park Adams
Susie Mozolic
2008
Jeff Allen
Barbara Catney
Rob Fisher
Jeff Doxsee
Wendy Harley
2009
Todd McKissack
Barbara Catney
Ken Chambers
Hank Townsend
Gail Alexander
2010
Shane Boyd
Kenny Smith
Wes Leon
Eddie Long
Larry Carmichael
2011
Chris Nicholas
Chris Cowgill
Joel Jarrett
Dave Batts
Jean Anderson
2012
Matt Howard
Randy Martin
Jenna Eddy
Don Wilham
Karyn Shafer
2013
Brick Rosenbaum
Susie Wilhelm
Tina Lipford
Judd West
Philip Hill
2014
Matt Scaringe
Mike Melder
Heather Johnson
Glenn MacGraw
Gene Love
2015
Sean Marston
John Gatlin
Fred Varn
Jon Stout
Brian Flynn
2016
Jimmy Thorn
Lisa Revell
Bonnie Fisher
Ken Martin
Jeff Ryan
2017
Pete Marby
Sally Musgrove
Pam Faulkner
Jerry Kutz
Pat Crowley
Past Grand Marshals
| | |
| --- | --- |
| 1976 | POW Sgt. McMillan |
| 1978 | Malcolm Johnson |
| 1979 | Pete Rich |
| 1980 | Betty McCord |
| 1981 | Nancy Dobson |
| 1982 | Governor Leroy Collins |
| 1983 | Judge B. K. Roberts |
| 1984 | Jake Gaither |
| 1985 | George R. Langford |
| 1986 | Dr. S. C. O Connell |
| 1987 | Lucy Ho |
| 1988 | Anna Johnson |
| 1989 | Dr. Bernard Sliger |
| 1990 | Dr. William Foster |
| 1991 | Leon County Public Library - Paula Peters Smith, Jackie Renard,Walli Beall, Trudy McCarthy |
| 1992 | Randy Trousdell |
| 1993 | Charles Robert Yates |
| 1994 | Anna Johnson |
| 1995 | Dr. Andrew Boggs Ramsey |
| 1996 | Sandra Morthem |
| 1997 | Helen Purvis |
| 1998 | Jan Wheeless |
| 1999 | Norm Thaggard |
| 2000 | Congressman Allen Boyd |
| 2001 | Gene Deckerhoff |
| 2002 | Robert Milligan |
| 2003 | Walt and Kitty Funderburk |
| 2004 | Battery A 124th Infantry Battalion, Florida National Guard |
| 2005 | Mayor John Marks |
| 2006 | Dr. Bill Law |
| 2007 | Frank Ranicky |
| 2008 | Truett Cathy |
| 2009 | Senator Alfred Lawson |
| 2010 | Kim Williams |
| 2011 | Governor Rick Scott |
| 2012 | Mickey Andrews |
| 2013 | Cheryl Hines |
| 2014 | United States Armed Forces |
| 2015 | Mayor Andrew Gillum |
| 2016 | Dr. Jim Murdaugh |
| 2017 | John Thrasher |